Nearly four years since Route 4's ill-conceived move in 2016, we can now confirm that the CAA has published its final decision on the compliance of the current Route 4 with its original aim. This follows on from the draft decision the CAA issued in early January.
The final CAA decision is in all material respects the same as the draft one, and confirms that the current route implemented on 26 May 2016 has failed the original aim and is not a satisfactory replication of the route that was in place at the time of the original airspace change proposal submission.
According to the CAA directions given in the final decision report (attached here), the route is due to revert to the old route that was being flown in 2012, at the latest by 9 October 2020.
For the sake of complete clarity, the 2012 route to which Route 4 is set to return as the CAA has directed, is the old route before P-RNAV was first introduced – i.e. before the first changes to the route that happened towards the end of 2013.
We know this result comes at a time when air traffic is at an all-time low due to the C-19 pandemic, but for those who have unjustly suffered this route since its second invidious move in 2016, we know it will come as a very welcome relief, and we hope that all who live in our local communities around Gatwick will see the justice in this result.
In reaching this point we would like to extend our thanks to everyone who signed-up to the R4 Legacy Pledge, and who has supported this campaign in so many ways.
Current Route 4: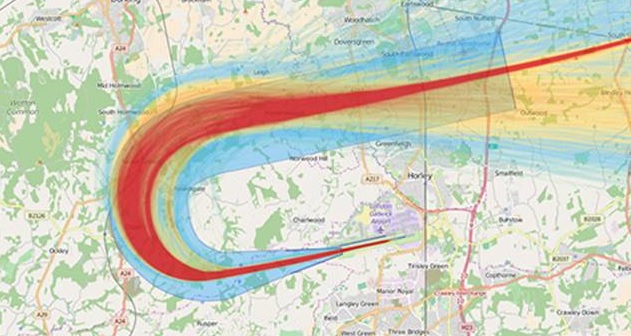 Route 4 as in 2012: